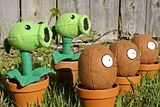 I was addicted for a while with the plants vs. zombies (PVZ) game. I heard one of my favorite dj's was playing the game and i give in to his constant reminders to his listeners to try the game... I was able to finish the plants vs. zombies game in less than 2 weeks... but it didnt end there, i spent another week finishing the game because I wanted to complete the other side games of PVZ.
I just remember that game coz i stumbled this site (
arixystix
) that created plant vs. zombies plush toys. It's very cute and i hope she gives me a pea shooter T_T.